Fighter Pilot
Born: 9 February 1910, Botosani
Units:
25 October 1939 - November 1941: 3rd Fighter Group
November 1943 - September 1944: 6th Fighter Group
September 1944 - 12 May 1945: 1st Fighter Group
Combat missions: over 100
Victories: 16
Decorations:
Mihai Viteazul Order with swords 3rd class
Virtutea Aeronautica Order Knight class
Eiserne Kreuz 2nd class
War episode:
10 June 1944 proved to be the last glory day of the IAR-80 and of the 6th Fighter Group. The 15th Air Force decided to make another low-level attack on the refineries, similar to the one on 1 August 1943, this time with the 82nd Fighter Group and the 1st Fighter Group providing the escort. The 6th Fighter Group raised 23 IAR-81Cs in the air, at 12:30 am. At about 2500 m ground station signalled that "two feathered Indians" (the code name for P-38s) are attacking the airfield. Cpt. av. Dan Vizanti then gave the order: "Paris to Paris 1,2,3. We attack! Follow me!" The entire group dived on the unsuspecting pilots of the 71st Fighter Squadron (1st Fighter Group). The dogfight took place at an altitude of a few hundred meters and it lasted four minutes. The nimbler IAR-81C proved to be more than a match for the Lightning at that altitude. Within this short time span, 14 P-38s were shot down. The Romanian pilots claimed 23, but this is easily explainable due to the confusing circumstances. The 6th Fighter Group lost four men, two because of a mid-air collision. Cpt. av. Dan Vizanti added two P-38s to his score.
Died: 12 November 1992, Paris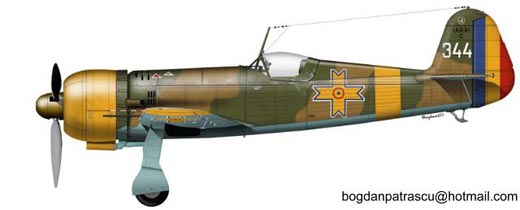 Profile courtesy of Bogdan Patrascu
The IAR-81C no. 344 was flown by cpt. av. Dan Vizanti on 10 June 1944, when he claimed two P-38s of the 71st Fighter Squadron.