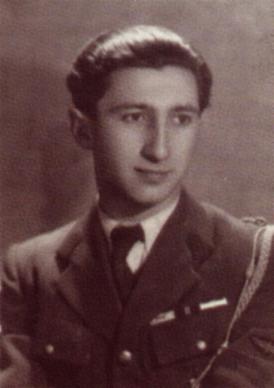 Picture from "Pumnul tarii - Grupul 5 Bombardament greu" by Dan Stoian, MODELISM, 1999
Slt. av. Dan Stoian
Bomber/Long Range Recon Pilot
Born: 13 November 1919
Units:
25 May - 15 August 1943: 6th Bomber Group
15 August 1943 - 22 November 1944: 5th Bomber Group
28 February - 12 May 1945: 2nd Long Range Recon Squadron
Combat missions: 136 bomber + 11 long range recon
Victories: 1
Decorations:
Virtutea Aeronautica Order Knight class with two bars
Eiserne Kreuz 1st class
War episode:
Slt. av. Dan Stoian 18th mission was flown against motorized columns and troop concentrations in the Djiakovo area on 5 August 1943. A formation of five Ju-88A4s, under the command of Oberleutenant Erich Kornblum, the German liaison officer, took off early in the morning. They were joined by the escort fighters on schedule and after 20 minutes they reached the target. They entered the dive and released the bombs. All scored direct hits. They recovered at about 1000 m. Slt. av. Stoian was surprised to see that the AAA wasn't firing at them. And soon found out why. Two Yaks came down on them from the left. All the machine-guns on the bombers started to fire at the attackers. Soon the cockpit was filled with smoke and gun-powder smell, so Stoian had to open a side window. The formation was very tight and it was easy to concentrate the fire against the Yaks, which were coming in one by one. One of the Soviets was hit and started to go down. The other attacked slt. av. Stoian's Ju-88A4. For a few seconds, he saw tracers passing near him, until they stopped and he heard slt. av. Giurgea, the observer, saying: "we got him!!!". Then he saw the Yak as it was going down in flames. The whole lasted only thing 3-4 minutes, although it seemed like hours. When they reached the base they made a low-level pass, in formation. Then, the two pilots which claimed victories that day, slt. av. Stoian and slt. av. Ionescu, passed again, waving their wings, just like the fighters.
He is presently living in Bucharest
Read the interview with cdor. av. (VR) Dan Stoian

Profile courtesy of Bogdan Patrascu
This airplane was flown by lt. av. Dan Stoian when he was part of the 5th Bomber Group. The "A" after the number shows that this was the second Romanian Ju-88A4 which wore the number 120.