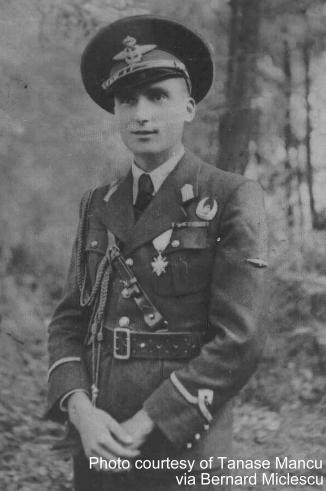 Picture courtesy of cdor. Tanase Mancu (via Bernard Miclescu)
Slt. av. Tanase Mancu is shown here wearing the "Virtutea Aeronautica" Gold Cross class.
Recon Observer
Born: 22 September 1913, Ungureni, near Tecuci
Units:
22 June 1941 - 3 September 1944: 13th Observation Squadron
4 September - 21 December 1944: Air Command 1st Army
22 December 1944 - February 1945: 13th Observation Squadron
Combat missions: N/A
Victories: -
Decorations:
Virtutea Aeronautica Order Knight class
Eiserne Kreuz 2nd class
War episode:
On 3 September, at 0500 hours, he took off on the first bombing mission against the Germans, with another two IAR-39s. They entered action between Apahida and Cluj, where there were 3 trains. Lt. av. Mancu was in the leading airplane at 2,150 m, where the German light AAA mounted on the trains was ineffective. They dropped 6 bombs, 2 at a time. Of these 3 hit the target. He announced the other aircraft in the formation of the result and told them to head towards the other two trains, which were only 30 minutes away from Cluj, 10 km one from the other. The Romanian biplanes used the same method of bombing. The bombs fell 1 or 2 meters away from the cars, damaging them and the railroad and causing the trains to derail. Having fulfilled the mission, they returned home following the railroad and searching for other targets. In the Razboieni-Apahida sector lt. av. Mancu uncovered 5 trains, which they successfully bombed. Then the formation landed and reported the results. They received another two similar missions that day, which they could carry out without problems due to the lack of enemy AAA and fighters.
He is presently living in Bacau.
Read the memories of cdor. av. (VR) Tanase Mancu