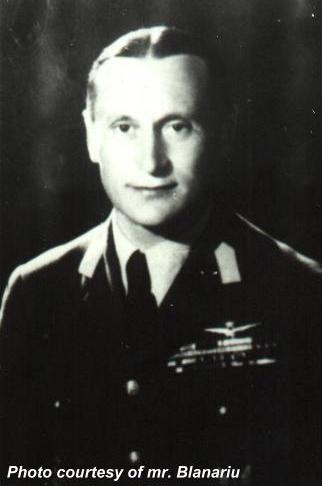 Picture courtesy of mr. Blanariu
Cdor. av. George Davidescu (dubbed "the Englishman", for his ellegance and calm)
Fighter Pilot
Born: 28 February 1896, Bucharest
Units:
1939 - 1941: CO Air Force Officer School
June 1943 - 23 August 1944(?): chief of staff 1st Air Corps
Combat missions: -
Victories: -
Decorations:
Virtutea Aeronautica Order Gold Cross class
War episode:
Because cdor. av. Davidescu did not take part in any war mission, I decided to relate some of his inter-war exploits. He was one of the initiators and main organizer of two raids Bucharest - Cape Town and return.
The first raid was made with three ICAR M.23b training aircraft. The crews were cpt. av. Mihail Pantazi and Dumitru Ploesteanu (expedition's mechanic), lt. cdor. Alexandru Cernescu and of. ec. cl. III Max Manolescu, cpt. av. George Davidescu and of. ec. cl. III Petre Ivanovici. They left from Bucharest on 22 October 1933 and headed for Istanbul. From there they flew to Konya - Alep (Syria)-Cairo (Egypt) - Assuan - Khartoum - Malakal. There, their raid was stopped, due to technical problems, and had to return home, arriving in Bucharest on 17 November.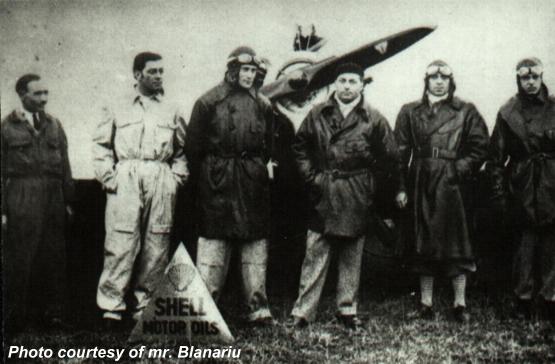 Picture courtesy of mr. Blanariu
14 April 1933, from left to right: Dumitru Ploesteanu, Petre Ivanovici, George Davidescu, Alexandru Cernescu, Max Manolescu, Mihail Pantazi
For the second raid they chose an airplane more suited to the task: the ICAR Universal. Max Manolescu and Petre Ivanovici (killed in a plane crash in the meantime) were replaced by cpt. cdor. av. Gheorghe Jienescu and cpt. av. Gheorghe Olteanu. The mechanic Anton Stengher also joined the expedition. They left on 14 April 1935 from Bucharest and, following the same route, arrived at Malakal on 18. From there they headed to Nairobi (Kenya) - Salisbury - Pietersburg - Johannesburg - Kimberly - Cape Town. They landed at their final destination on 25 April. Five days later they started their return journey and, on 25 May, they entered Romanian airspace, being escorted by 9 ARR Potez XXVs. At Baneasa airfield a huge crowd had gathered to greet them, as well as many VIPs. Later that day, they were taken to the Royal Palace, where they were awarded the "Virtutea Aeronautica" Order Gold Cross class for their achievement.
Died: 1972, Bucharest