Fighter Pilot
Born: 18 November 1920
Units:
October 1943 - 25 February 1945: 9th Fighter Group
Combat missions: 176
Victories: 11 confirmed + 1 probable
Decorations: N/A
Died: 25 February 1945, Slovakia (KIA)
Biography:
I first heard of Traian Dârjan when I was about five or six years old. It was also the first name of a Romanian WWII aviator I knew. It was a story about his last mission and dogfight. It was part of a pseudo-historical short stories book published before 1989, when Romania was under a Communist regime. The only true things in it where the fact that Traian Dârjan flew with his unit commander on that last day of his life and that one German airplane was shot down. In rest, pure inventions.
He was born in the Someseni village, close to Cluj, in Transylvania, on 18 November 1920. Traian was the fourth child of the Dârjan family, but all previous ones died very young. His father, who had lost a leg in the Great War, fell sick and died in 1923. Traian remained alone with his mother. In 1934 he finished elementary school in his village and was admitted with a partial scholarship to a high-school in Cluj. But he also had to work in a factory's shop for the extra money he needed for school. In 1939 he couldn't find a job anymore and had to quit high-school and return to Someseni where he worked on the small piece of land they had. Near the village was a military air base and Traian had a passion for airplanes since he was a young boy. So in October 1939 he started flight school at ARPA Cluj and received his license in December. He then applied for the Military Flight School at Tecuci and was admitted in July 1940. He graduated on 11 April 1942 and promoted to the rank of adjutant stagiar (staff sergeant).
Adj. stg. av. Traian Dârjan remained at the school as an instructor until October 1942, when he was transferred to the 9th Fighter Group, equipped with IAR-80s. During 1943, the group changed to the Bf-109G and was sent to the the front on 23 October of the same year to replace the exhausted 7th Fighter Group. He soon started flying in different missions, but the poor weather didn't allow too much activity. On 20 November, the conditions weren't to good (clouds at 100 m and powerful wind), but they flew. Adj. stg. av. Traian Dârjan, while coming in for a landing, capsized and slid off the runaway into a Ju-52 which was parked on the airfield. However he was lucky and escaped almost without a scratch.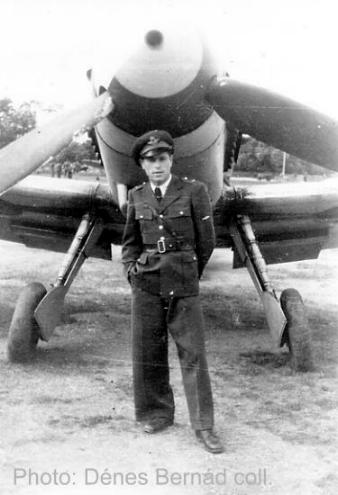 Picture courtesy of mr. Dénes Bernád
Adj. av. Traian Dârjan in front of his Bf-109G
His first victory, a Yak, came on 22 February 1944 when he was flying as cpt. av. Popescu-Ciocanel's wingman in a free hunting mission and the second one on 10 March, also a Yak. by this time the front line was on Romanian soil, so air activity intensified in a effort to stop the Soviet advance. On 17 April, cpt. av. Gheorghe Popescu-Ciocanel was escorting a Romanian Ju-88A-4 formation together adj. stg. av. Traian Dârjan, when they were attacked by La-5s. In the following dogfight, both Romanian pilots managed to shoot down one VVS fighter each. Traian Dârjan added a Yak-9 to his score on 28 April.
While the 9th Fighter Group was engaged in the bloody air battles on the front with the Soviets in Moldavia, other Romanian fighter units were fighting the USAAF raids, which started on 4 April. They were only allowed to intercept the Americans that were flying in their sector towards airbases in the Soviet Union, until 19 June, when the Luftflotte IV devised the "Sternflug" plan to counter the American attacks. When the enemy formations were detected on radar, the 6 German fighter groups and the 7th and 9th Romanian Fighter Groups (equipped with Bf-109Gs) were all assembled and directed against the attacking force. The Fw-190s were suppose to engage the bombers, while the Bf-109Gs protected them from American fighters. The plan was good in theory, but it did not work very well in practice. One such occasions was on 24 June, when 20 of the group's Bf-109Gs were sent to engage the USAAF aircraft. They stumbled upon a formation of 13 Liberators. In the following attack, three B-24s were shot down, one of which belonged to Traian Dârjan. Thus he became an ace with 7 victories.
The 9th Fighter Group continued to carry out missions on the front in Moldavia and also against the 15th Air Force's raids. Adj. stg. av. Traian Dârjan achieved his next victory on 9 July during an escort mission. He and adj. av. Constantin Nicoara were protecting a Romanian Stuka formation, when they were attacked by 4 Yaks. These were soon joined by 2 La-5s. Each of the Romanian pilots shot down a Yak during that dogfight. However, Nicoara's victory remained probable.
The day of 26 July 1944 remained in the group's history as "Black Sunday". 18 Gustavs from the 9th Fighter Group took off to engage a formation of 20 unescorted bombers, as the radar station reported. In fact there were more bombers, which were protected by over 100 P-38s and P-51s. The Romanian pilots scored 11 kills, but the price was very high: 7 airplanes, four dead pilots and two wounded. During the battle, Traian Dârjan joined adj. av. Iosif Moraru, who had just shot down a P-38 in his attempt to locate his victim (for confirmation of the victory). They were attacked by other Lightnings and adj. Dârjan shot down one of them.
The fights with the USAAF continued until 18 August, when cpt. av. Serbanescu was shot down. Adj. av. Traian Dârjan tried to warn him that there were Mustangs on his tail, but it seems the captain's radio wasn't working. He watched with horror how his CO was going down and then crashed.
On 20 August 1944 the Red Army launched the Iasi-Chisinau (Jassy-Kishinev) Operation and the air activity on the Moldavian front boomed. On 21, adj. av. Dârjan was part of a patrula (Romanian for Schwarm) led by cpt. av. Constantin Cantacuzino, which was on a free-hunting mission. They encountered a formation of 24 Il-2s escorted by 6 Yaks. They engaged the fighters and shot down three of them. Traian Dârjan got one. This was his last kill. The second day he was shot down in a dogfight with several La-5s. His radiator was hit, the windscreen was covered with oil and the cockpit filled with smoke. Lt. av. Gavriliu guided him through radio and he managed to make a belly landing. Here is the rest of the story from lt. av. Ion Dobran's diary: I opened the cockpit and jumped out. Near the crash site there were some trees and I tried to hide there. i didn't have time to because at about 100 m there was a Soviet armored column. Bullets passed near me... I raised my hands and walked towards them...soldiers with submachine-guns were coming after me. They encircled me and wanted to shoot me on the spot. I was covered with mud from head to toe. I had fallen into a swampy field. They took some of my clothes and my boots. Suddenly the circle opened and an officer came there. He started to hit me with his fists and feet. My luck was that at 200 m it was a major tank unit's command post and the general wanted to see me. I was called to him and, with the help of a translator, he started to question me. he asks me to respond to his questions and he will let me go. I replied as well as I could. He ordered to give my clothes back to me and I remained there. The general had a map on which the city Vaslui didn't appear, so he wanted my map. I told him I don't have it (and it was the truth), because we don't take them for such a small sector. He got very angry and threatened to shoot me if I didn't give him the map in 3 minutes. I think my face changed dramatically. I told him again that I don't have it. The seconds passed very slow, like years, and the 3 minutes were up. A soldier stuck a gun to my head. I closed my eyes and waited for the shot. The general shouted: "Give me the map!!!" and I replied that I don't have it. He left me alone and then asked how many victories I had and I answered:"12". "You are good", he said. "There are many others better than me in my group". I asked for permission to smoke and got it and then for some water. A soldier brought it swearing. The general asked me if I didn't want to go with him. Of course I said yes... what I suppose to do... We jumped into a car and headed for Vaslui. North of the city there was an air alarm. We ran into a corn field for cover. There were Romanian Stukas which rained havoc on the armor and troop concentration. [Ironically, lt. Ion Dobran was escorting the Stukas that day] The Russians turned their guns on me and asked if those were Romanian airplanes. They swear. I was lucky that the translator (a nice guy from Odessa) put himself between them and me. After two minutes came German Fw-190s, which continued the Stukas' attack. What can I say? It was horrible! I have never seen or think such a "show". Tanks thrown off the road, overturned, burning... broken hands and feet... the Russians were mad. The General, as he had promised, saved me and set me free. I was forced, however, to go north towards Iasi. I was thinking to go to Nicoara's village. [adj. stg. av. Nicoara was a comrade from the 9th Fighter Group] On the road I met other Romanian soldiers. A peasant gave us to eat, but was too afraid to take us in and we had to walk on.[...] When we approached Iasi we were stopped by Russian soldiers, arrested and sent to a prison camp north of the city. We were about 4,000 there. They gave one loaf of bread to six men and soup, but I never got to the boiler, because there was a big squash. To make room around it, two Russians whipped the crowd without mercy. After ten days there I was so thin that I could barely walk. We slept on the ground, when we could find a place. Together with two soldiers, I took advantage of the fact that they were moving us to Botosani (and then to Russia) and fled. The guards were few and careless and didn't see us. I got to to Nicoara's village traveling cross-country. His mother took me in for 4 days, until I recovered. She gave me peasant clothes and I left for Tecuci [it was the group's base when he was shot down in August] where I arrived a few days later. There I was well received by my Jews. The Russians treated them as bad as they treated us. Generally, the city hadn't been robbed more than others. Ignatyi Semionovich's family was still there and were concerned because they didn't know what to do: go back to Odessa or stay there. They have heard that there were heavy punishments for the ones that left willingly. They gave a note for you [lt. Dobran], but I lost it. I took a train to Bucharest and went to the Flotilla.
He was then sent to the front again and joined his comrades on 30 September, on the Turnisor airfield in Transylvania, were the 9th Fighter Group was deployed in the new anti-Axis campaign.
The weather didn't allow very much activity during the autumn and winter of 1944, but every effort was made to help the ground troops in need of assistance. The Luftwaffe wasn't a very common sight in this period, because of the little importance given to this part of the front. Most of the Romanian losses in Hungary and Czechoslovakia were due to the AA artillery and accidents.
On 25 February 1945, the last major ARR offensive of the war was launched. It was aimed at supporting the ground forces which were attacking in the Zvolen area. On his fifth mission that day, cpt. av. Cantacuzino took off with adj. Traian Dârjan. They encountered 8 Fw-190Fs which were attacking Soviet troops and engaged. The captain, ARR's top scoring ace of the war, shot down one of them and the others fled. In order to validate the kill, the two Romanian pilots got careless and started to look for the wreck. They failed to see the approaching Rotte of German Bf-109Gs, led by Hptm. Helmut Lipfert. Adj. Traian Dârjan failed victim to the Luftwaffe ace, his former flight instructor at Tiraspol. A 13 mm bullet almost beheaded him. He crashed near the friendly lines. Cpt. av. Cantacuzino didn't even notice that his wingman was in trouble. He was also surprised by Lipfert's comrade and shot down. He escaped and returned to the 9th Fighter Group's base with a car from a Romanian division. He told what happened and concluded: "Adj. Dârjan must be dead."
Lt. av. Dobran remembered, in his diary, that in the moment they left for Hungary, Dârjan's mother started to cry, probably knowing that he may not come back.