In May 1937, an order was issued to Savoia Marchetti for 24 bombers. The Italians offered the tri-motored S.M. 79, but ARR wanted that the bombers be modified. The new airplane was designated S-79B and was powered by two Romanian-built Gnôme-Rhône 14K engines. By September 1938 all the airplanes had been delivered. However, two were lost during transport. The rest of 22 S-79Bs equipped the 1st Bomber Group (71st and 72nd Bomber Squadron).
The airplane was much appreciated, so it was decided to buy the license to produce 36 new Savoias at IAR Brasov. However, the new bombers were also going to be fitted with the more powerful Jumo 211 Da engines and the task of redesigning the aircraft for to incorporate them was too much for the experience of the Romanian engineers. Eight of these new airplanes were ordered in Italy. They were designated JIS-79B (Jumo Italian S-79B). But they didn't arrive until August 1941.
The only S-79B equipped unit at the beginning of Barbarossa in the ARR was the 1st Bomber Group. The first Savoias were shot down from the very first day. Because of heavy losses, in July 1941, one of the 2nd Bomber Group's squadrons, the 75th, was re-equipped with brand new JRS-79Bs (Jumo Roman S-79B). These went on to fight in the battle of Odessa together with the remnants of the 1st Bomber Group.
In 1942, more JRS-79Bs became available (36 were produced in total). The JIS-79Bs were assigned to the 71st Squadron and the 72nd Squadron was equipped entirely with JRS-79Bs. The rest of JRS-79Bs were distributed to the newly formed 83rd and 84th Bomber Squadron. The remaining older S-79Bs were transferred to flying schools.
In the autumn of 1942, the 1st Bomber Group was again on the front, supporting the Romanian forces near Stalingrad. This was the Savoias' last campaign in Russia. The new Romanian Air Corps, which operated in Ukraine in 1943 was equipped entirely with German-built bombers. But because the front was approaching Romania, another order of 36 bombers was issued to the IAR factory.
In 1944, the front had reached Romania. So in a desperate attempt to stop the Soviet advance all available resources were thrown into battle. All the remaining JIS/JRS-79B/B1s were massed in the 1st Bomber Group (71st and 72nd Squadron) and 2nd Bomber Squadron (82nd and 83rd Squadron).
After Romania joined the Allies in August 1944, the JRS-79B/B1s were not initially engaged against the German and Hungarian forces. But since losses grew, the reorganized 1st Bomber Group (72nd and 82nd Squadron) was sent to the front in October 1944. This unit fought on until the end of the war in May 1945. The last Romanian JRS-79B to lost in WWII fell on 21 April.
The S-79B

Profile courtesy of Bogdan Patrascu
| | |
| --- | --- |
| Wingspan | 21.2 m |
| Length | 16.2 m |
| Height | 4.1 m |
| Weight (empty) | 6400 kg |
| Weight (loaded) | 10000 kg |
| Maximum speed at 4000 m | 415 km/h |
| Maximum operational ceiling | 7700 m |
| Range | 1500 km |
| Engine | 2xIAR 14K IIc32 870 HP |
| Machine-guns | 3x13.2 mm; 1x7.92 mm |
| Crew | 4 |
| Bombs | 1500 kg |
The JIS-79B & JRS-79B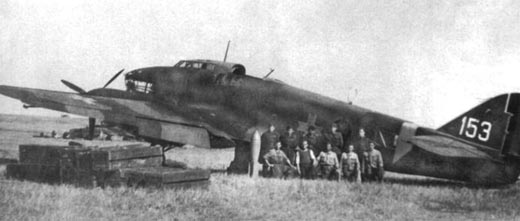 Picture from "Rumanian Air Force, the prime decade 1938-1947" by Dénes Bernád, Squadron/Signal Publications, 1999
| | |
| --- | --- |
| Wingspan | 21.2 m |
| Length | 16.82 m |
| Height | 4.1 m |
| Weight (empty) | 7000 kg |
| Weight (loaded) | 11525 kg |
| Maximum speed at 6000 m | 431 km/h |
| Maximum operational ceiling | 9500 m |
| Range | 1850 km |
| Engine | 2xJunkers Jumo 211 Da 1200 HP |
| Machine-guns | 1x13.2 mm; 3x7.92 mm |
| Crew | 4 |
| Bombs | 1575 kg |
The JRS-79B1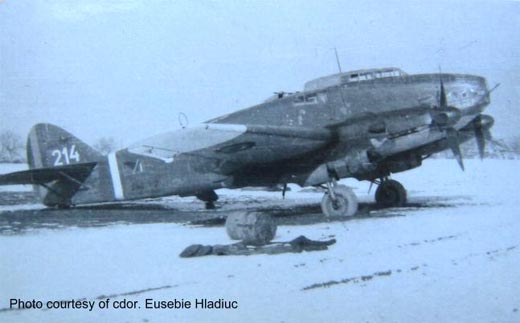 Picture courtesy of cdor. Eusebie Hladiuc
| | |
| --- | --- |
| Wingspan | 21.2 m |
| Length | 16.82 m |
| Height | 4.1 m |
| Weight (empty) | 7000 kg |
| Weight (loaded) | 11785 kg |
| Maximum speed at 6000 m | 436 km/h |
| Maximum operational ceiling | 9500 m |
| Range | 1750 km |
| Engine | 2xJunkers Jumo 211 F 1400 HP |
| Machine-guns | 5x7.92 mm |
| Guns | 1x20 mm |
| Crew | 4 |
| Bombs | 1400 kg |