The first 32 He-111H3s were delivered to Romania in 1940 and used to equip the newly formed 5th Bomber Group, which soon became the elite "heavy" bomber unit of the Romanian Royal Aeronautics. It fought during the entire 1941 campaign in Bessarabia and at Odessa and lost seven of its Heinkels. They also claimed 17 Soviet fighters shot down, of which the first was on 22 June, and 47 aircraft destroyed on the ground.
In early 1942, another 15 airplanes were bought from Germany. These were newer models: He-111H6s, which could also launch torpedoes. All but one were assigned to the 78th Squadron, which served in the 5th Bomber Group in 1941. It was renamed 78th Marine Bomber Squadron and separated from the group. The other two squadrons, equipped with He-111H3s were sent on the front in September 1942, with the rest of the Romanian Combat Air Grouping and saw action over Stalingrad.
The losses were high and the remaining He-111s and Bf-109Es were united in an ad-hoc unit called the Mixed Group, under the command of the lt. cdor. Iosifescu, the commander of the 5th Bomber Group. But at the end of February, only He-111 was still available for action. The unit was sent back to Romania for rest and reorganization.
In 1943, the 5th bomber Group was reequipped with more modern Ju-88A4s. The only unit that still had He-111s was the 78th Marine Bomber Squadron. But in 1944, when the front reached Romania, all available forces were thrown against the advancing Red Army. The 78th Squadron was incorporated into the 4th Bomber Group and saw intensive action on the front in Moldavia.
After 23 August 1944, when Romania quit the Axis and joined the Allies, all the German-made medium bombers were joined in the 5th Bomber Group, where the 78th Squadron served until October 1944, when the remaining 3 He-111H6s were retreated from the first line.
In the summer of 1944, ten He-111E3 transports were bought, but because the front was close to the supply bases, they only saw more action in September, against the Germans, when several of them were assigned to the Mixed Transport Squadron.
One He-111H20 was captured after the events of 23 August and hastily impressed into service as a VIP transport
The He-111H3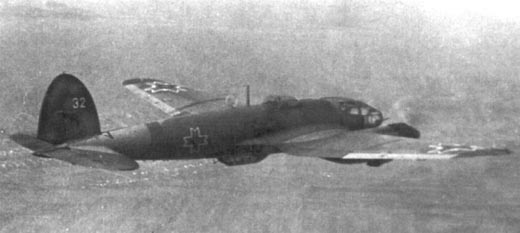 Picture from "Rumanian Air Force, the prime decade 1938-1947" by Dénes Bernád, Squadron/Signal Publications, 1999
| | |
| --- | --- |
| Wingspan | 22.6 m |
| Length | 16.4 m |
| Height | 4 m |
| Weight (empty) | 8680 kg |
| Weight (loaded) | 14000 kg |
| Maximum speed at 6000 m | 406 km/h |
| Service ceiling | 8501 m |
| Range | 1930 km; 2800 km max |
| Engine | 2xJunkers Jumo 211D-1 1200 HP |
| Machine-guns | 6x7.92 mm |
| Guns | 1x20 mm |
| Crew | 5 |
| Bombs | 2000 kg |
The He-111H6
| | |
| --- | --- |
| Wingspan | 22.6 m |
| Length | 16.4 m |
| Height | 4 m |
| Weight (empty) | 8680 kg |
| Weight (loaded) | 14000 kg |
| Maximum speed at 6000 m | 406 km/h |
| Service ceiling | 8501 m |
| Range | 1930 km; 2800 km max |
| Engine | 2xJunkers Jumo 211F-1 1350 HP |
| Machine-guns | 6x7.92 mm |
| Guns | 1x20 mm |
| Crew | 5 |
| Bombs | 2000 kg |
The He-111H20
| | |
| --- | --- |
| Wingspan | 22.6 m |
| Length | 16.4 m |
| Height | 4 m |
| Weight (empty) | 8680 kg |
| Weight (loaded) | 14000 kg |
| Maximum speed at 6000 m | 406 km/h |
| Service ceiling | 8501 m |
| Range | 1930 km; 2800 km max |
| Engine | 2xJunkers Jumo 213E-1 1750 HP |
| Machine-guns | 6x7.92 mm |
| Crew | 2 |
The He-111E3
| | |
| --- | --- |
| Wingspan | 22.6 m |
| Length | 17.5 m |
| Height | 4 m |
| Weight (empty) | 6818 kg |
| Weight (loaded) | 9600 kg |
| Maximum speed at 4000 m | 420 km/h |
| Service ceiling | 7200 m |
| Range | 1500 km |
| Engine | 2xJJunkers Jumo 211A-1 1000 HP |
| Machine-guns | 3x13.2mm & 2x7.92 mm |
| Crew | 5 |
| Bombs | 1000 kg |