Twenty Potez 633B2s were received in 1939 and were immediately impressed into service in the 2nd Bomber Group. At the beginning of the Operation Barbarossa, the group had 17 aircraft. Three were lost in the first day only. In July, after one month of operations the 75th Squadron transferred all its surviving Potez bombers to the 74th Squadron, which also had taken a lot of damage, and was reequipped with JRS-79Bs.
The 74th Bomber Squadron participated in the battle of Odessa and flew more missions than any other unit of the 2nd Bomber Flotilla. At the end of the 1941 campaign, there it had 5 available and 1 unavailable Potez 633B2. Seven aircraft of these type were lost and the rest were under repairs.
Nine Potez 633s were received in September and October 1941. These were used to bolster the forces of the 74th Squadron, now subordinated to the 3rd Bomber Group.
Under this organization the Potez bombers participated in the second campaign, over Stalingrad. The lack of spare parts meant that their serviceability was low. After the Soviet counter-offensive they had to be retreated back to Romania. Only two were lost in combat.
Some Potez 633B2s were used as reconnaissance aircraft during the Stalingrad campaign in the 3rd Long Range Recon Squadron. The number of losses is unknown. They were also retreated in December to Romania.
Because the 3rd Bomber Group was going to convert to the Ju-87D, the Potez 633B2s were assigned to the 1st Fighter Flotilla as trainers for night fighter pilots.
The Potez 633B2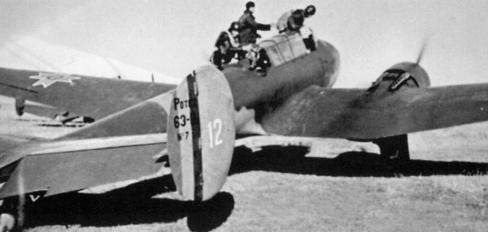 Photo courtesy of mr. Dan Antoniu
| | |
| --- | --- |
| Wingspan | 16 m |
| Length | 11.07 m |
| Height | 3.62 m |
| Weight (empty) | 2450 kg |
| Weight (loaded) | 3760 kg |
| Maximum speed | 438 km/h |
| Maximum operational ceiling | 9000 m |
| Range | 1300 km |
| Engines | 2xGnome Rhone GR14Mars 660 HP |
| Machine-guns | 3x7.5 mm |
| Crew | 3 |
| Bombs | 400 kg |