In September 1939, 22 (according to Romanian sources) or 27 (Polish sources) took refuge in Romania in front of the advancing German and Soviet forces. The airplanes were interned and 19 of them were armed and assigned to the 4th Bomber Group.
The group participated in operations from very first day of Barbarossa, when two were lost to Soviet AAA. Until the end of the campaign only one P.37 was shot down. but the lack of spare parts meant that few were serviceable. The PZLs claimed 4 VVS fighters shot down and 25 destroyed on the ground.
The P.37s were retreated from active duty, but in 1944, as the front reached Romania, all available forces were mobilized in a desperate attempt to stop the Red Army. Only one P.37B equipped squadron could be raised: the 76th, which was subordinated to the 4th Bomber Group.
After 23 August 1944, the remaining P.37Bs were again retreated, but this time for good.
The P.37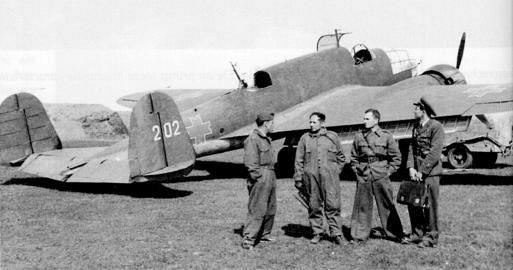 Picture from "Rumanian Air Force, the prime decade 1938-1947" by Dénes Bernád, Squadron/Signal Publications, 1999
| | |
| --- | --- |
| Wingspan | 17.93 m |
| Length | 12.92 m |
| Height | 4.25 m |
| Weight (empty) | 4935 kg |
| Weight (loaded) | 8880 kg; 9105 kg max |
| Maximum speed at 2800 m | 412 km/h |
| Maximum operational ceiling | 8900 m |
| Range | 1500 km |
| Engines | 2xSkoda Bristol Pegasus XX 920 HP |
| Machine-guns | 3x7.9 mm |
| Crew | 4 |
| Bombs | up to 2580 kg |