According to foreign sources Romania had ordered the first 12 He-114 B2s, that were delivered in 1939. A second order of 12 He-114 C1s was delivered later after 1941, when they could leave the German coastal forces from the Finland Gulf.
On the other hand Romanian sources indicate that the He-114s arrived in Romania in 1943. They were integrated first in the 102nd Seaplane Squadron and later also in the 101st Seaplane Squadron. Both Squadrons were part of Seaplane Flotilla based on the beach of Siutghiol Lake, village Palazul Mare, near Mamaia. Both seaplane squadrons were fully equipped with He-114s by late 1943.
At the beginning of 1944 the front activities of the He-114 were divided between Odessa and Constanta to prevent the danger of Soviet troops landing on the seacost. Until 23 August 1944 they carried out hundreds missions as: antisubmarine patrols, convoy escort, shore reconnaissance, open sea search. As a curiosity the last eight He-114s still in Romanian service considered obsolete, were dismantled in May 1960. They were the last operational He-114s in the world!
The He-114B2
Wingspan
13.6 m
Length
11.65 m
Height
5.23 m
Weight (empty)
2314 kg
Weight (loaded)
3760 kg
Maximum speed
330 km/h
Service ceiling
4900 m
Range
880-1050 km
Engine
BMW 132K 960 HP
Crew
2 (pilot+observer/
machine-gunner)
Machine-guns
2x7.92 mm; 1x7.92 mm
(in the rear)
Bombs
2x50 kg
The He-114C1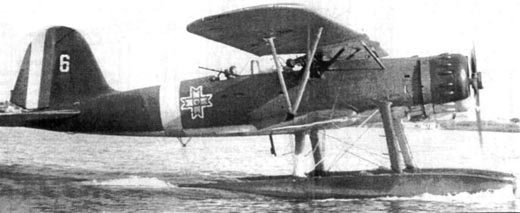 Picture from MODELISM International 4/1999 (67)
Wingspan
13.6 m
Length
11.65 m
Height
5.23 m
Weight (empty)
2314 kg
Weight (loaded)
3760 kg
Maximum speed
330 km/h
Service ceiling
4900 m
Range
880-1050 km
Engine
BMW 132K 960 HP
Crew
2 (pilot+observer/
machine-gunner)
Machine-guns
2x7.92 mm; 1x7.92 mm
(in the rear)
Guns
2x20 mm
Bombs
2x50 kg