The Hs-129B2 came into ARR service in 1943. It equipped the 8th Assault Group, which previously had been a fighter unit (8th Fighter Group with IAR-80Bs).
The first mission was flown on 15 August. The first loss came on 19 August, when adj. stg. Petre Sarbu's airplane, which had been hit by Soviet AAA, crashed close to the airfield. The HS-129B2's presence quickly began to be felt by the Soviet troops in the area where it was deployed. This low-flying, heavily armored and armed machine was a regular butcher in the hands of trained pilot. They often flew at least 4 missions a day in support of the ground troops. But the powerful Soviet light AAA took its toll. Many times the pilots somehow managed to get back home in their Henschels, which looked more like Swiss-cheese than airplanes. They also claimed a few kills against the Il-2s.
In 1944, a new assault group (the 11th) started training, but it wasn't ready when Romania changed sides in August, so its elements were used to fill the ranks of the existing assault group. Because of losses and lack of spare parts, the number of available Hs-129B2s decreased. In October 1944 he group was reduced to the 41st Squadron, which was joined with the 74th Squadron (Ju-87D3) and formed the 8th Assault-Dive Bomber Group.
The Hs-129 remained in the front line also after Romania joined the allies and contributed a lot to the war effort against Germany. It flew one of the last missions of the war in Europe against elements of the Vlasov Army, which refused to surrender after 9 May 1945, and "convinced" them to give up fighting.
This is the airplane which probably saved more Romanian ground troops from certain death than any other in ARR service throughout the entire war.
The Hs-129B2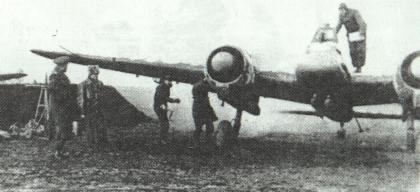 Picture from "Aviatia de asalt - G8" by Valeriu Avram, MODELISM, 1994
| | |
| --- | --- |
| Wingspan | 14.2 m |
| Length | 9.5 m |
| Height | 3.25 m |
| Weight (empty) | 2673 kg |
| Weight (loaded) | 5250 kg |
| Maximum speed at 4000 m | 425 km/h |
| Maximum operational ceiling | 9000 m |
| Range | 700 km |
| Engine | Gnôme-Rhône 14 Mars 850 HP |
| Machine-guns | 2x13.2 mm |
| Guns | 2x20 mm |
| Bombs | 1x250 kg; 6x50 kg |