In March 1939, an order of 30 He-112Bs was issued to Heinkel and by August they had already arrived and were assigned to the 5th Fighter Group (51st and 52nd Squadron).
In June 1941, the group was included into the Combat Air Grouping and saw action from the first day of operation Barbarossa. The first victories in a He-112B were among the first achieved by ARR during the war. Slt. av. Teodor Moscu claimed three I-16s over Bulgarica airfield early on 22 June 1941, but only two were confirmed. The first loss came the next day, when adj. av. Codrut Anghel was shot down in an engagement with the 249th IAP. The Heinkels were mainly used in a ground attack role and were quite successful, but due to the lack of serious armor protection, this lead to seroius losses.
In August 1941, the 52nd Squadron trasferred its remaining He-112Bs to the 51st Squadron and received IAR-80As. The 51st was assigned temporarily to home defense, but in October it was sent to take part in the siege of Odessa. After the city fell on 16 October, the squadron remained there and flew coastal defense and tactical reconaissance missions over the Black Sea, until July 1942, when the squadron was brought back to Romania. The same month, a He-112B from the 51st Fighter Squadron flew the first night interception misssion in the history of ARR against Soviet bombers that were attacking Bucharest.
In early 1943, the 51st Squadron switched to Bf-110s and the remaining Heinkels were relegated to advanced trainer role and used from in the process of training Bf-109G pilots.
The He-112B1
| | |
| --- | --- |
| Wingspan | 9.1 m |
| Length | 9.3 m |
| Height | 3.9 m |
| Weight (empty) | 1620 kg |
| Weight (loaded) | 2250 kg |
| Maximum speed | 510 km/h |
| Climbs to 4900 m | 7 min. |
| Service ceiling | 8500 m |
| Range | 1100 km |
| Engine | Junkers Jumo 210 Ea 680 HP |
| Machine-guns | 2x7.92 mm |
| Guns | 2x20 mm |
| Bombs | 6x10 kg |
The He-112B2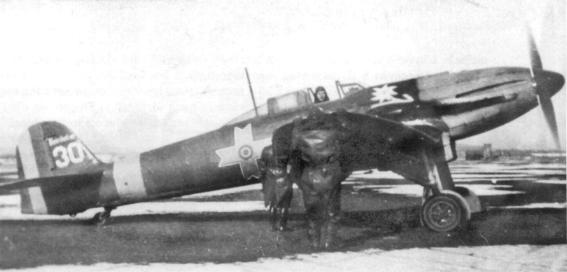 Picture from "He-112 in action" by Dénes Bernád, Squadron/Signal Publications, 1996
| | |
| --- | --- |
| Wingspan | 9.09 m |
| Length | 9.22 m |
| Height | 3.82 m |
| Weight (empty) | 1617 kg |
| Weight (loaded) | 2248 kg |
| Maximum speed | 510 km/h |
| Climbs to 4900 m | 7 min. |
| Service ceiling | 9500 m |
| Range | 1150 km |
| Engine | Junkers Jumo 210 Ga 700 HP |
| Machine-guns | 2x7.92 mm |
| Guns | 2x20 |
| Bombs | 6x10 kg |