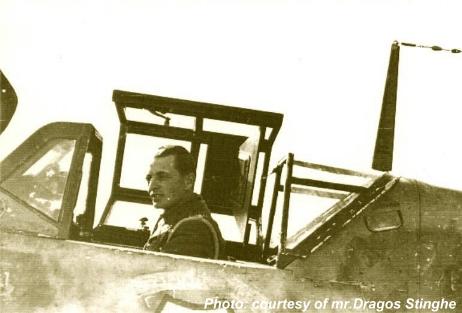 Picture courtesy of cdor. Dragos Stinghe
Lt. av. Dragos Stinghe in the cockpit of his Bf-109G.
Fighter Pilot
Born: 25 March 1920
Units:
November 1943 - 23 August 1944: 7th Fighter Group
September - November 1944: 9th Fighter Group
March - 12 May 1945: 1st Fighter Group
Combat missions: over 100
Victories: N/A
Decorations:
Virtutea Aeronautica Order Gold Cross class with one bar
War episode:
In April 1944, the USAAF made several air raids over Romanian territory. The 58th Fighter Squadron was scrambled every time. On one such occasion, lt. av. Dragos Stinghe was just closing in on a lone bomber, which had remained behind the formation, when he heard in his radio: "Blue Nine, there's a Mustang on your tail! Break left, break left!" He then climbed and turned, avoiding the American's bullets and tracers in the last moment. Ironically, lt. av. Stinghe did not recognize the voice that saved him.
He is presently living in Bucharest
Read the memories of cdor. av. (VR) Dragos Stinghe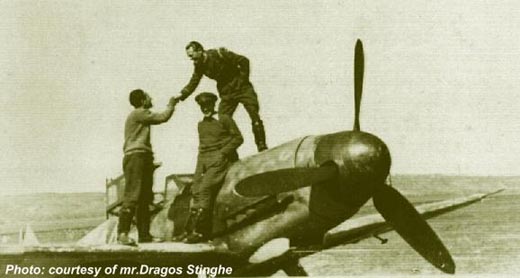 Picture courtesy of cdor. Dragos Stinghe
Of. echip. cl. III Ion Milu congratulates lt. av. Dragos Stinghe upon his return from his 100th mission.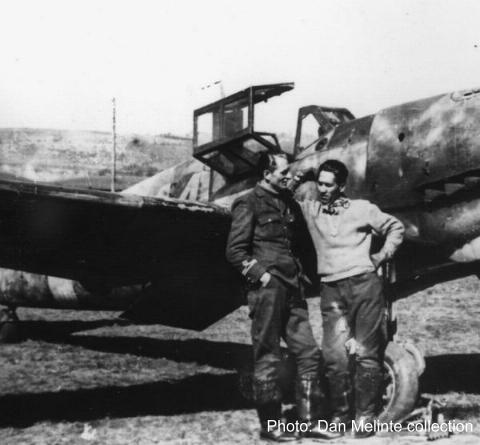 Picture courtesy of mr. Dan Melinte
Lt. av. Dragos Stinghe (left) leaning on 14 Yellow. The man in the right side of the photo is of. echip. cl. III Ion Milu