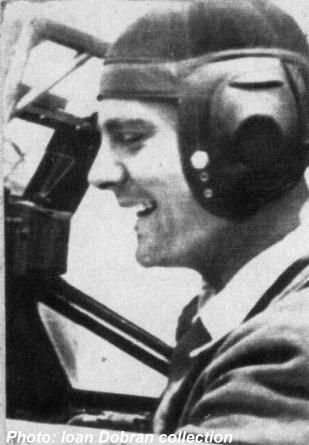 Picture courtesy of gen. Ioan Dobran
Lt. av. Horia Pop in the cockpit of his Bf-109E
Fighter Pilot
Born: 23 December 1919
Units:
May 1942 - 23 August 1944: 52nd Fighter Squadron
Combat missions: 189
Victories: 2 probable
Decorations: N/A
War episode:
On 18 May 1944, lt. av. Horia Pop was returning from a patrol over the Danube Delta. He was flying at about 400 m. He spotted a lone P-38, which was probably lost. He immediately started to pursue it. The American pilot saw him and increased speed trying to get away. However, lt. av. Pop managed to get closer and fire. The Lightning caught fire and went down somewhere in Bulgaria. But he was also in trouble, because this pursuit had left him with very little fuel. Luckily the airplane kept going and he reached the Mamaia airfield. After he landed, however, the engine stopped. The fuel tank was empty.
Died: 14 November 2002, Predeal

Profile courtesy of Bogdan Patrascu
This Bf-109E was flown by lt. av. Horia Pop on 18 May 1944, when he claimed a P-38 Lightning.