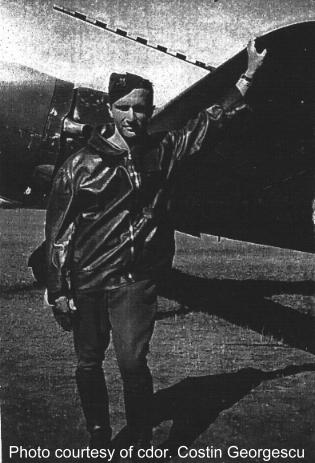 Picture courtesy of cdor. Costin Georgescu
Slt. av. Costin Georgescu leaning on an IAR-80 at Brasov, in 1942.
Fighter Pilot
Born: November 1918, Muscateni, Botosani
Units:
January 1942 - February 1943: 43rd Fighter Squadron
February - 17 August 1943: 7th Fighter Squadron
Combat missions: 30
Victories: -
Decorations:
Virtutea Aeronautica Order Knight class with two bars
War episode:
On 17 August, during a ground attack mission, at about 700 m, slt. av. Georgescu's a AAA projectile exploded near him and almost cut away his left arm, which was hanging in only one tendon. He became temporary deaf and all his instruments were destroyed. He tried to throttle up and then he realized that the left arm wasn't responding. With only his right arm he managed to put his Bf-109G down in Axis lines. Slt. av. Georgescu was taken to a German hospital, where his arm was amputated.
Died: 6 August 2007, Bucharest
Read the interview with cdor. av. (VR) Costin Georgescu